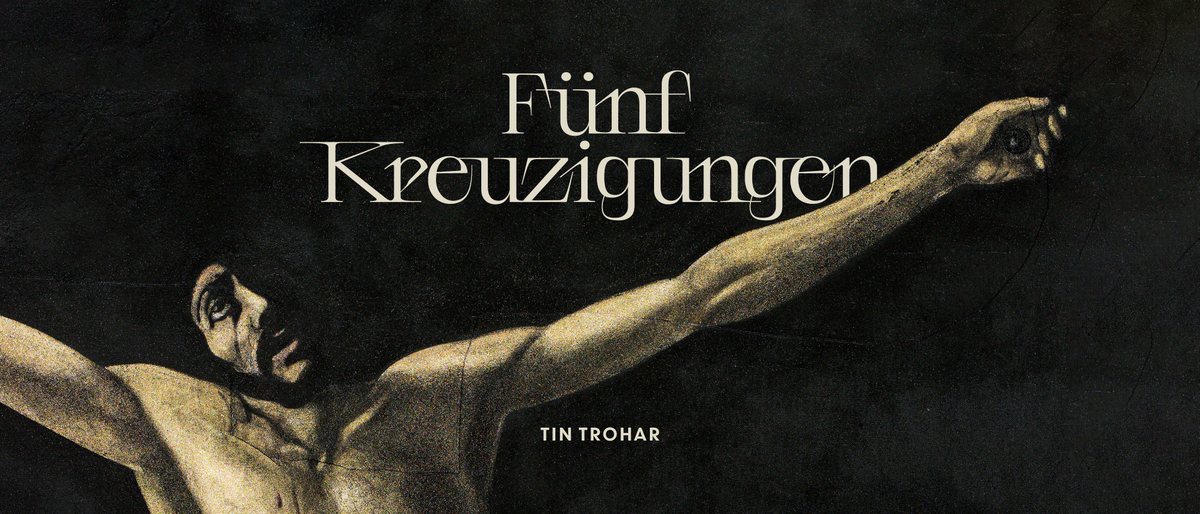 Tin Trohar. Five Crucifixions
14 September -12 October 2022
The cross as an ancient motif found expression in art above all in the form of the crucifixion. The story of the crucified Jesus Christ not only spread the message of Christian faith, but also inspired the greatest masters of art history to create significant works. Rubens, Zurbarán and many others acted on behalf of the Church, Tin Trohar devotes himself to the motif by his own choice. He does so naturally, without pathos and without a religious message. Is he a believer? What role does Jesus Christ play in his life? He does not answer these questions. Tin Trohar is a painter, not a storyteller. It is not the why that is decisive, but the how. How significantly this how stands out from what has been done before can only be experienced in front of the original. For all his reduction of colour, Trohar does not forego the use of glitter familiar from his work and thus allows the dying body of Jesus Christ to shine with an unusual radiance.
We all have a relationship to this crucified man. As diverse as these relationships and our reaction to the subject as a society are, as diverse are the answers to the question of the meaning of life and death. And that is why one crucifixion was not enough. For the time being, there are five of them. Tin Trohar has been approaching the subject for a long time and worked on it for the last few months. Now it is up to us to react to his paintings.
Alexander Giese
Biography Tin Trohar
Tin Trohar was born in 1987 in Rijeka in present-day Croatia. In 1991, the family followed his father to Austria, who had already been able to establish himself as an architect in Carinthia a year earlier. Even in early childhood, pencils and paper were a favourite pastime of Trohar. At first, he mainly copied animal pictures, but he also found still-life motifs - for example his mother's hiking boots, which exerted a special fascination with their red ribbons and worn spots. Trohar's talent for drawing was also recognised and encouraged at school, although he eventually gave preference to portraying those around him over lessons and left school at 16. A few years later Trohar moved to Vienna, where he began studying at the Academy of Fine Arts under Daniel Richter in 2009. After a challenging start, his artistic activity intensified in 2011/12. Also significant was the encounter and the resulting long-lasting painterly exchange with the artist Beatrice Dreux in 2013. In the period that followed, still lives became an important theme in Trohar's work; using varying techniques in his vanitas paintings, he eventually discovered the use of glitter as a pigment, which is characteristic of his work today. First depictions of Jesus and the crucifixion followed. Around the same time, the artist's mother died in 2015, which prompted Trohar to leave the academy and move into his first studio. Over the next few years, he alternated between painting large-format mythological figures or animals and folkloristic still lives. After the abstraction of the still lives, a series of porno-paintings served as a reintroduction to figuration. This was followed by using icons of art history as motifs, be it Francisco de Zurbarán's Agnus Dei or Albrecht Dürer's Praying Hands - enlarged and in glitter. In this way, Trohar was already approaching what he is now bringing to a conclusion with his crucifixions: the use of an age-old topos, which entails a turning away from the personal towards the common and at the same time is translated into the artist's very own aesthetic.
Lara Bandion